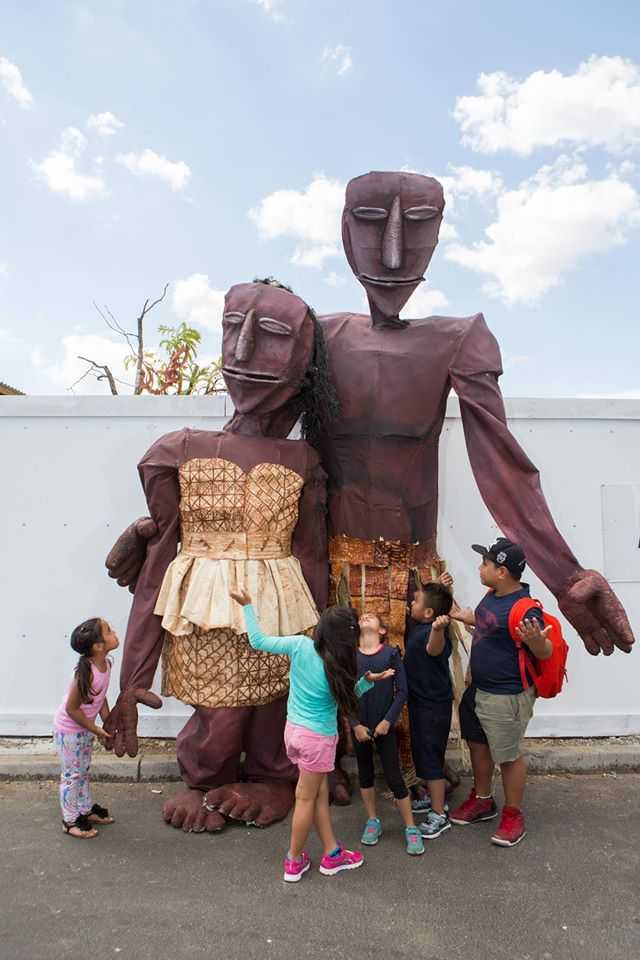 Gods of the Pacific Underworld
Gods of the Pacific Underworld consists of three giant outdoor puppet shows telling stories from Tongan mythology. The seven giant puppets from these shows are also ideal for roaming performances at festivals and other events, individually or as a troupe.
Tangoloa and Ilaheva
Many ages ago, before the word 'Christ' was spoken, before palangi sailed over the horizon, even before the coronation of the first Tui Tonga, there was only sky and ocean. So Tangaloa sent his son, the plover, to see what he could find….
Tangaloa and Ilaheva is a love story between a god and a mortal. It's the story of the creation of the islands of Tonga, the introduction of the yam to the Pacific and the establishment of the Tu'i Tonga.
Maui and the Fire
Young Maui is restless. He has been told of the paradise that lies beneath the waves in pulotu, the endless supply of yams and pigs to eat. This is the story of how Young Maui steals fire from his grandfather and takes it back to the people who live on the surface of the earth.
Peau Kula
Limu, the god of death is coming. Tangaloa, god of the sky, and Moana, goddess of the ocean, send lofa (great frigate birds) as a warning. The earth warms, the ice melts, water rises. Will Limu reign?
Gods of the Pacific Underworld was devised by APAN in partnership with Snuff Puppets through community workshops with the Brimbank Pacific Islander community (2015).