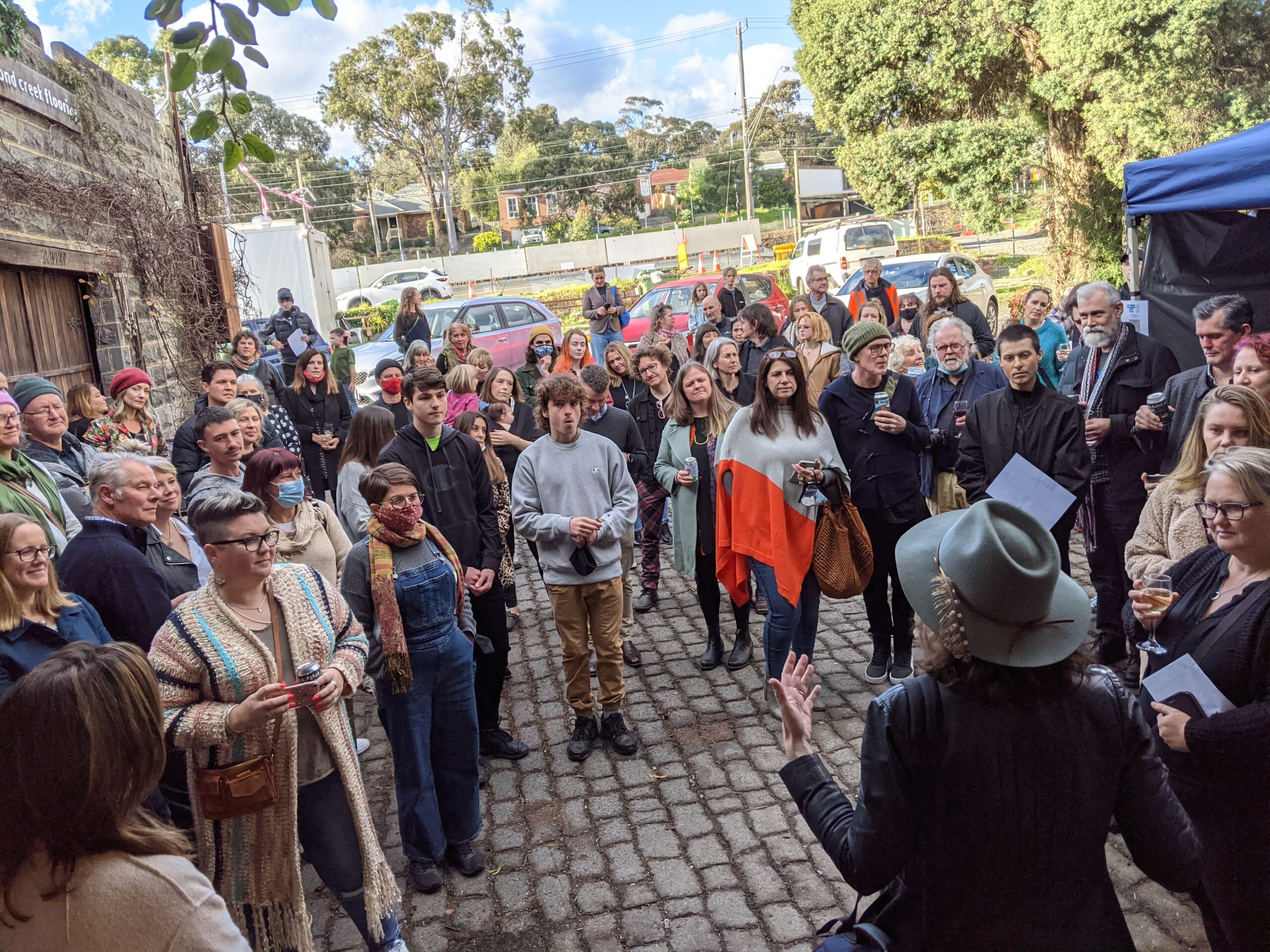 1 – 3 April 2022, Banyule Open Studios Weekend
Step into the artists world…
Banyule Open Studios provides a rare insight into the private creative spaces of local artists. Over the weekend of 15-17 October, more than 30 of our talented arts practitioners are opening their doors to the public. Their studios, scattered throughout Banyule, reveal a range of unique working environments and creative processes.
At Sanctum Studio experience giant puppets and street art. Peruse paintings, prints, photography and sound installations by Sanctum artists on display in our new gallery. Join the ongoing conversation on mental health, art and community that is Silent Revolution.
Opening Celebrations!
Banyule Open Studios opening will be held at Sanctum Studio, a dynamic new arts studio in Greensborough – a factory in a castle…yes, a castle with towers and turrets, covered in vines.
It will be launched by Mayor, Rick Garotti. It will feature giant roving puppets by Sanctum Theatre and sound installation by Silent Revolution. See artists' working spaces while enjoying a beer or wine.
Artists
Lachlan Plain – Since childhood Lachlan has lived in other worlds, on different plains, navigating them via several mediums – performance, painting and the written word. As artistic director of Sanctum Theatre (sanctumtheatre.org) since 2006, Lachlan has written, designed, directed, performed in and produced various productions. In 2012 he won the Impress Prize for The Lost Journals of Pedro Piscator and other tales, an eclectic illustrated collection of tall tales published by Impress Books. lachlanplain.com
Jasmine Powell – Jasmine is a writer, artist, mentor and facilitator inspired by Permaculture (care for people, the earth and future). She is the creator of Silent Revolution. She uses her journey from catatonia to creative empowerment to help others find their voice. She guides individuals, groups, families and communities to unearth healthy insights about their wellbeing and empower themselves to take meaningful action.
Katie Banakh is an award winning artist.  Her recent work reflects the Covid-19 pandemic through realist oil paintings, one of which earned her the Macquarie Group Emerging Artist prize (2020). Katie has exhibited locally and internationally and hold a BA in Fine Art, with Honours in Photography from Deakin University. katiebanakh.com
Tori Swedosh is a mixed media artist working in Melbourne. After graduating as a printmaker from the VCA in 1989 she started to explore painting. Enjoying the immediacy of acrylic paint and the bold richness of oil pastels she explored dream landscapes and personal motifs relating to balance and self destruction. Ideas which still haunt her curiosity.
Sanctum Studio Exhibitions 2021 supported by